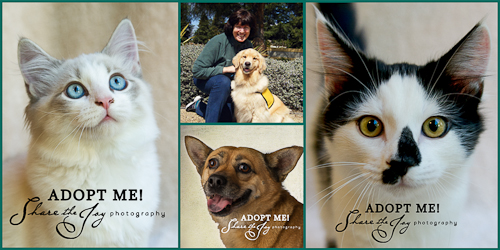 My passion for animals extends far beyond photography.  I believe our pets bring a wonderful joy and peace into our lives and all deserve loving homes.
Pet Therapy Work
I do regular therapy dog work under the direction of the Pet Hug Pack at Tony La Russa's Animal Rescue Foundation (ARF).  My dogs Julie and Jack regularly visit stressed out college kids at UC Berkeley, help kids struggling with reading at local libraries and visit hospital and hospice patients.
Pet therapy work has been such an important part of my life (it even inspired the name of my company!), that I am working on a special photo book to help share the work of pet therapy animals across the country.
Pet Rescue and Adoption Agencies
I have close relationships with many pet adoption agencies throughout Northern California.  My involvement ranges from being a local outreach representative at in person events to photographing foster cats and dogs to help them attract forever homes (professional photographs greatly improve adoption rates of pets). I also regularly donate photo sessions to silent auctions for select rescue groups and enjoy photographing events that support animal rescue. There are so many ways to give back!
There is also a wonderful organization called HeartsSpeak, which I am a member of, that is committed to uniting the efforts of animal artists and animal rescue organizations in fundraising and adoption efforts.