I will be teaching a number of pet photography group workshops, 4 person intensive studio photography workshops, and post processing seminars in 2018 – check back for details or contact me if you would like to be kept informed!
Private Mentoring:  There are so many aspects to a successful photography business – a strong business plan, reaching your target market, profitable pricing, excellent customer service, outstanding photography and post processing skills and the right product mix.  How is your business doing?  Where can you use some help? Sometimes nothing is better than watching and doing in an environment where you do not have to arrange for dog models, scout locations or worry about pleasing a client!  I custom design all my personalized training/mentoring to your needs and experience level.   I provide the lighting equipment so you can try out studio lighting, off camera flash, reflectors and diffusers.  Ready to dramatically improve your editing skills?  We work side by side editing the same images so you can learn to streamline your process and bring out the beauty in your images.  Having trouble finding clients and selling?   I share my entire process from sourcing clients to pre-session consultations to in-person sales.   Want to learn how to manage session with other animals?  I can arrange bird, cat and horse sessions too! The mentoring process begins with a detailed questionnaire so I can understand your needs.  Then together we design the perfect session picking from these topics:
Business Planning and Client management/marketing – Defining and finding your market, setting prices, and providing excellent customer service.
Natural light pet photography (camera settings, lens choices, light modifiers/reflectors, silhouettes, action and more).
Studio lighting pet photography (studio strobes, camera settings, lens choices, alternative modifiers, light meters, and background alternatives).
Off camera, on-location photography – this goes great with the natural light topic.  Learn how to add light with your off camera flash unit(s) and/or strobes without your image looking 'flashy.'  Learn to overcome even the harshest light with off camera flash.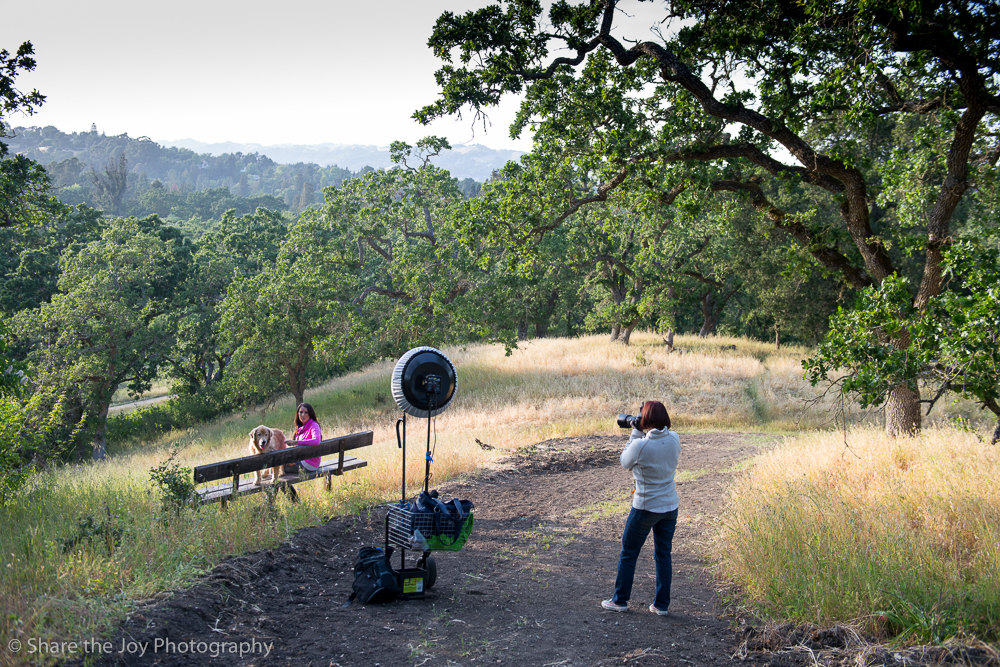 Post processing – I teach my Lightroom techniques for cataloging and culling to initial raw file corrections.  Then we head into Photoshop to learn targeted adjustment processes, layer masks, filters (liquify, Portraiture, Nik and Topaz), clone/patch tools, content aware tools (fill and scale), application and use of textures, compositing and preparing files for output.
Portfolio reviews/critiques – Sometimes another eye is needed to help you see where your images could use some improvement. Need some help selecting your best images for your website or social media?  I can help and also recommend enhancements to allow your images to shine.
Ready to learn how to photograph cats, horses and birds?  These specialized sessions can also be arranged!
Mentoring sessions begin with dinner and a short session on the first day, followed by two intense and fun-filled 8-10 hour days. Snacks, lunch and dinner are provided on each day as is transportation to and from a local hotel. The cost is $2,900 for 22+ hours of instruction. Want to bring a friend and share your learning experience? The cost per person is $1,800. But the learning does not stop there! I make myself available to all mentoring students after the mentoring session to help with client concerns, difficult editing challenges, and more. My studio is located in the beautiful San Francisco Bay Area where we have access to gorgeous locations year round! I also offer shorter mentoring sessions for targeted learning – for example, just post processing or studio lighting. Please inquire!
Ready to begin the process to see if a mentoring session is right for you? Contact me and I will be right back in touch with you with a detailed questionnaire to help plan a perfect session!
How do participants describe me? (blushing)
'Dynamic, Explicit and Organized'
"Enthusiastic and Explicit"
"Amazing, Awesome – Fun!"
"Patient, Knowledgeable and Enthusiastic"
"Down to Earth, Funny, Super Smart, Good Instructor"